S130 Gsm SMS Alarm unit,GSM SMS remote controller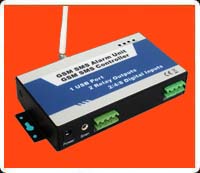 GSM SMS M2M(Machine to Machine) S130 device used for remote alarm and control some equipment,the SMS M2M devices with input/output terminal can connect detectors or transducers for collect data and send alert SMS to related person,meanwhile,control some equipment automatically or send SMS command by manual.
01
Description.
GSM Gate, Barrier, Shutter, Garage Door, Door Opener, Door access, Controlling gates, Car parking systems.
02
GSM remote controller for industrial projects.
For water pump,water tank,motor remote control,solar power remote monitor.
03

GSM alarm system for home or industrial security alarm.


For home or industrial projects alarm,burgur alarm,battery operated gsm alarm box.
04

GSM customized design for customer's requirement.


We can design GSM,GPRS,cdma,3g or 4g products for our customers.